March 8, 2023 – Scottsdale, AZ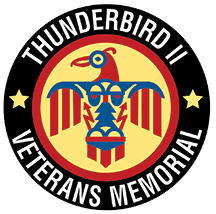 Thunderbird Field II Veterans Memorial, Inc. ("Tbird2″) announced a 2023 Aviation Scholarship has been awarded to Cintia Cantor Navas, a Chandler-Gilbert Community College (a Maricopa Community College) student earning an Associate Degree in Applied Science in Airway Science Technology with Flight Emphasis. Tbird2 is a non-profit organization dedicated to preserving the history of aviation in Scottsdale, Arizona, honoring all military veterans, creating unique educational opportunities for Arizona students studying all aspects of aviation, and supporting Dogs4Vets.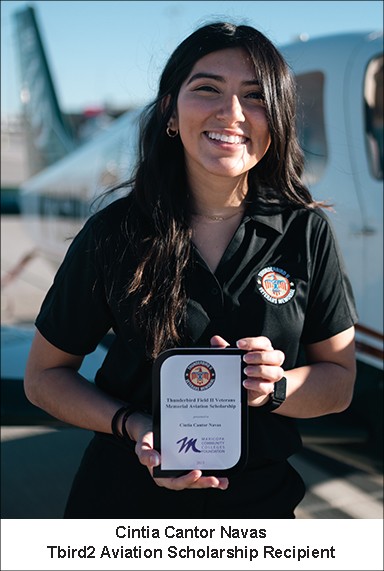 While serving in the United States Marine Corps, Cintia worked as an air traffic controller in the U.S. and was also deployed to Japan. After being honorably discharged as a Sergeant, she decided to continue her career in aviation. She is studying to complete her degree in Airway Science Technology while working as a flight dispatcher for the University of North Dakota (UND) Aerospace Foundation training center in Mesa, AZ. She has already completed her instrument rating and is currently working on her commercial rating. Upon graduation, Cintia will be a certified flight instructor and anticipates enrolling at Embry-Riddle Aeronautical University or UND to earn her bachelor's degree. This would allow her a chance to join one of the military reserves as an aviator and still pursue a career as a pilot in the airlines.
"Our partnership with the Thunderbird Field II Veterans Memorial Aviation Scholarship Program is a shining example of the first-class programs that are offered at our colleges, helping to turn dreams into reality," said Brian Spicker, President and CEO of the Maricopa Community Colleges Foundation. "The Foundation congratulates scholarship recipient Cintia Cantor Navas and looks forward to watching her succeed on her educational journey."
Rudy R. Miller, Chairman of the Advisory Board and Scholarship Committee, commented, "Our organization is extremely pleased with our working relationship with Maricopa Community Colleges Foundation, their leadership, and staff members. We also want to honor the quality and commitment of the aviation program developed by Chandler-Gilbert Community College, its instructors, and the administrative team."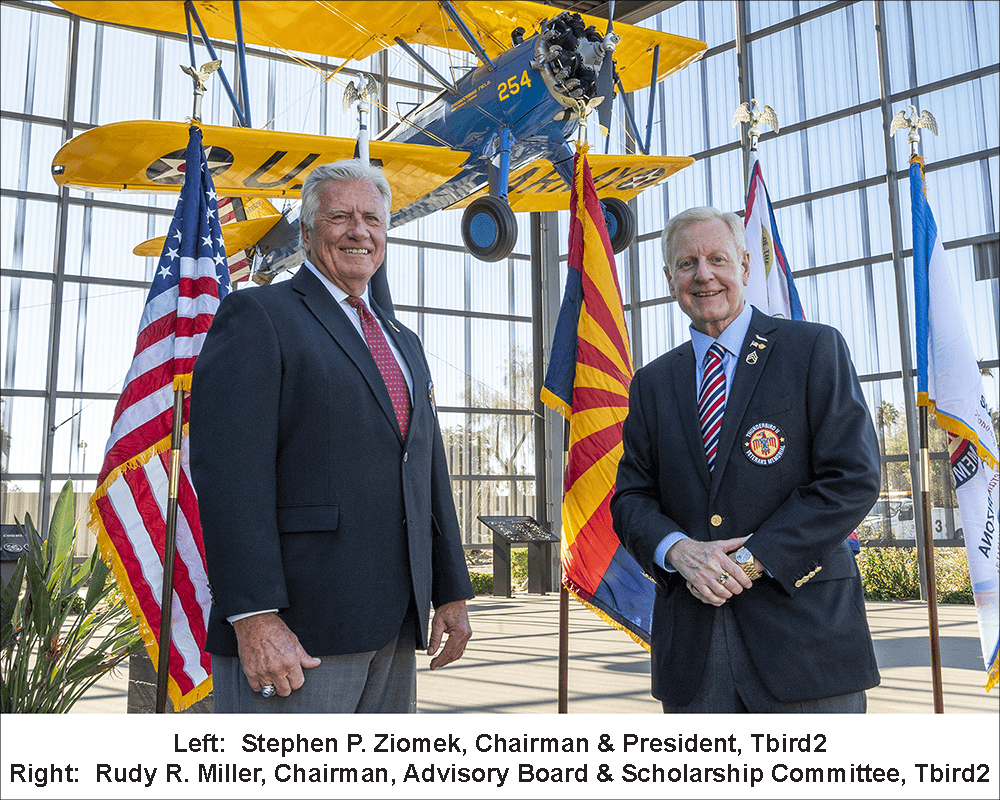 Miller concluded, "Cintia is a stellar recipient of this prestigious Tbird2 aviation scholarship. She is also the first female veteran to be honored by our organization to date. She is a strong-minded, bright, hard-working individual who will inspire other veteran as well as non-veteran women to pursue careers in aviation."
Stephen P. Ziomek, Chairman and President of Tbird2, stated, "I and the entire Tbird2 organization are proud to award this scholarship to such a worthy individual. Cintia has demonstrated the skill and drive it takes to succeed at any endeavor, and we are confident she will continue to have ongoing personal and professional successes."
About Thunderbird Field II Veterans Memorial, Inc.
Thunderbird Field II Veterans Memorial, Inc. is a 501(c)(3) non-profit organization formed in 2014 and headquartered in Scottsdale, Arizona. During World War II, an airfield named Thunderbird Field II was built for the sole purpose of training U.S. Army Air Corps pilots in 1942. Thunderbird Field II graduated over 5,500 men and women pilots, many of whom saw military action in Europe and the Pacific. The field and school were deactivated on October 16, 1944, sold to Arizona State Teachers College (ASU), then to the Arizona Conference of Seventh-day Adventists, and finally to the City of Scottsdale in 1966 and is now known as Scottsdale Airport (KSDL). Tbird2 has a permanent memorial at the entrance of the Scottsdale Airport, located at 15000 N. Airport Drive, Scottsdale, AZ, and a historical display inside the facilities honoring the service of men and women of the U.S. Armed Forces as well as POW-MIAs.
The Aviation Scholarship Program provides scholarships to veteran and non-veteran Arizona resident students who meet specific criteria and are attending Arizona State University, Embry-Riddle Aeronautical University, Chandler-Gilbert Community College, Cochise College, Pima Community College, or Yavapai College. For more information, please visit www.tbird2.org.
About Dogs4Vets
American Service Animal Society, dba Dogs4Vets, is a non-profit 501(c)(3) organization dedicated to enabling disabled veterans live a more productive life through the use of service animals. Dogs4Vets offers lifetime support and service dog training for over 100 Arizona veterans each year, at no cost to the veteran.
Thunderbird Field II Veterans Memorial, Inc. Contacts:
Stephen P. Ziomek
Chairman & President
480.664.6604
Rudy R. Miller
Chairman, Advisory Board & Scholarship Committee
602.225.0505
Contact:
Amy Tupay
Marketing and Public Relations Coordinator
Maricopa Community Colleges Foundation
480.731.8410