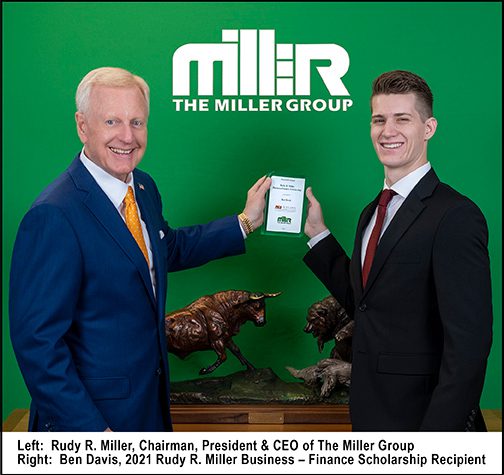 October 21, 2021 – Scottsdale, AZ
The Miller Group (TMG) announced it has awarded its 2021 Rudy R. Miller Business – Finance Scholarship (RRM Scholarship) to Arizona State University (ASU) senior, Ben Davis, who is majoring in Finance.
Mr. Davis, a senior at Barrett, The Honors College at ASU, along with his academic studies, serves as the Executive Vice President of the Financial Management Association, Director of Finance for the Business School Council, and the Elections Commissioner for the Undergraduate Student Government. Ben's future plans include attending graduate school and earning a Master's of Business Administration or Master's degree in finance. His objective is to integrate his finance and business education and skills with an industry that motivates him.
read more
February 05, 2018 | The Dow Plunged, But Here's Why You Shouldn't Worry.
July 6, 2016 | How Does the Brexit Impact the U.S. Economy?
September 29, 2015 | Will the Fed Raise Rates? Is a Bear Market Coming?
December 5, 2017 | Should You Buy Bitcoin?
November 6, 2015 | Will the U.S. Jobs Surge Lead to Interest Rate Increase?
August 27, 2015 | U.S. Economic Strength a Buffer Against Stock Market Declines.