August 15, 2023 – Scottsdale, AZ

The Miller Group Chairman Rudy R. Miller Joins Embry-Riddle Aeronautical University Aviation and Business, Security and Intelligence Advisory Boards
Scottsdale, AZ – August 15, 2023 – Rudy R. Miller, Chairman, President and CEO of The Miller Group of entities, has been invited to join two influential boards at Embry-Riddle Aeronautical University in Prescott, Arizona.
Following a comprehensive talent search, Embry-Riddle selected Miller to join the advisory boards for both the College of Aviation (COA) and the College of Business, Security and Intelligence (CBSI).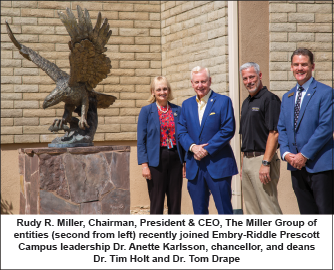 "I am approached by numerous organizations, and I choose my volunteer opportunities carefully," Miller stated. "The leadership role of Embry-Riddle's Prescott Campus Chancellor Dr. Anette Karlsson was an important item in my decision process. Another key issue was Embry-Riddle's support for veterans. Embry-Riddle Aeronautical University – Prescott was ranked #1 in 2022-2023 U.S. News & World Report as "Best College for Veterans" across the western region. Embry-Riddle's commitment to excellence in education and workforce development makes it a wise investment of my time, which is my most valuable asset. It is my privilege to work with the world's largest institution of higher education focused on aviation and aerospace. Embry-Riddle is developing new technology collaborations, resulting in expedited hiring initiatives with leading aviation and aerospace industries."
In addition to joining Embry-Riddle's COA and CBSI advisory boards, Miller has generously established scholarships for students, both veterans and non-veterans, at both colleges. He is also set to create a fund to support simulator training to improve commercial pilot safety.
Embry-Riddle President P. Barry Butler, Ph.D., noted that Miller has been a champion for higher education and Embry-Riddle students."We are grateful for and continuously inspired by his insights and his good deeds in support of our school and our community," Butler said.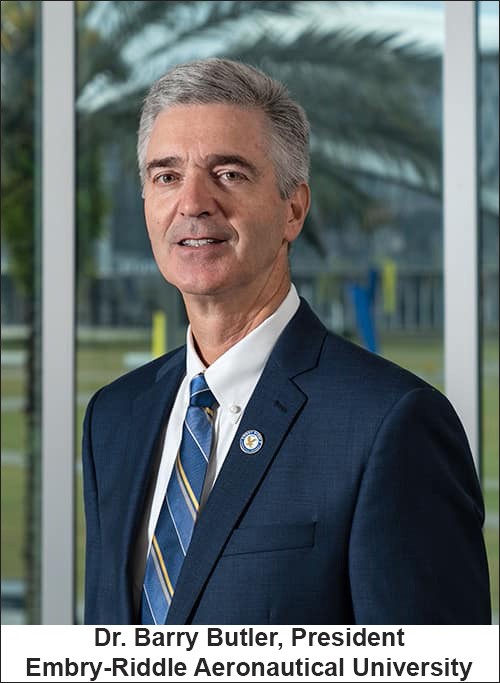 Dr. Thomas Drape, dean of the College of Business, Security and Intelligence, said that Miller's appointment elevates its accomplished and dedicated board to the next level.
"Rudy's lifetime commitment to excellence, his variety of businesses, military background and security experiences, and his competitive spirit are a perfect match for focusing our efforts on the next generation of industry professionals," Drape added.
Dr. Timothy Holt, dean of the Prescott Campus College of Aviation, also lauded the appointment, saying that Miller will be integral to the board's goal of bringing new ideas and fresh viewpoints.
"This board of aviation professionals has gained a strong supporter in Rudy Miller," Holt said, "and we look forward to having his expertise and knowledge in helping bridge that path for our students from college to industry."
About The Miller Group
The Miller Group, established in 1972, is headquartered in Scottsdale, Arizona, and is comprised of several affiliated companies including Miller Capital Corporation, Miller Investments, Inc., and Miller Management Corporation. The Miller Group offers a broad rage of services including venture capital and private equity investing, debt financing, financial advisory, and management consulting to public and private middle-market companies throughout North America, Europe, and Asia. A select group of current and past clients include: America West Airlines®, Bowlin Travel Centers, Inc.®, Capital Title Group, Inc., Comprehensive Care Corporation®, DELSTAR Companies, Inc., Legal Broadcast Network, LLC, Magma®, McMurry, Inc., Regent Communications, Inc., Ritz Carlton Magazine®, ServRx, Inc., Sunshine Minting, Inc.®, Telgian Holdings, Inc.®, and US Air Express.
About Embry-Riddle Aeronautical University
Reporters worldwide contact Embry-Riddle Aeronautical University for content experts in all aspects of aviation, aviation business, aerospace, engineering and STEM-related fields. Our faculty experts specialize in uncrewed and autonomous systems, security and intelligence, air traffic and airport management, astronomy, human factors psychology, meteorology, spaceflight operations, urban air mobility and much more. Visit the Embry-Riddle Newsroom for story ideas.
Embry-Riddle educates 31,000+ students at its residential campuses in Daytona Beach, Florida and Prescott, Arizona, at approximately 110 Worldwide Campus locations and through online degree programs. In 2023, U.S. News & World Report named Embry-Riddle Worldwide the nation's No. 2 provider of online bachelor's degree programs. The university has ranked either No. 1 or No. 2 in this category every year since 2016. Our residential campuses hold multiple Top 10 rankings. All of our campuses have been ranked Best for Veterans.
Media Contact:
Mike Cavaliere, (386) 226-4838, [email protected]