November 14, 2023 – Scottsdale, AZ


Scottsdale, Arizona (November 14, 2023) – The Miller Group (TMG) announced it has awarded its 2022 Rudy R. Miller Business – Finance Scholarship (RRM Scholarship) to Arizona State University (ASU) student Ethan Tong, a senior at Barrett, the Honors College at ASU, W. P. Carey School of Business, pursuing a Bachelor of Science degree in Finance with a minor in Economics and certificate in International Business.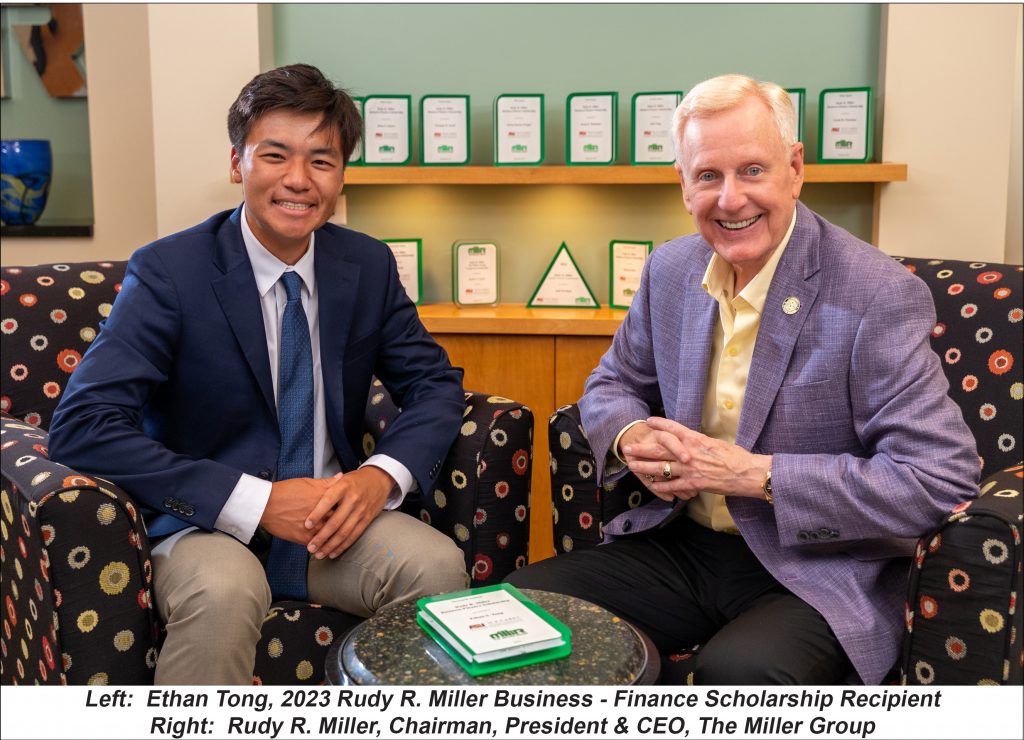 Mr. Tong moved from Chicago, Illinois, where his family resides, to Tempe, Arizona to attend Arizona State University, W. P. Carey School of Business. On campus he is involved in New Venture Group, TAMID, and Alpha Kappa Psi. He joined Alpha Kappa Psi offering him to be a part of the community which allowed him to create impact on and off campus. He serves as a professional mentor and collaborates with his peers to create service events while balancing internships and academics. Ethan has a passion for finance and business and hopes to serve others with his degree and entrepreneurial spirit. Ethan is an avid tennis player and golfer and spent his early years caddying and tennis coaching. As he prepares for graduation, Ethan hopes to begin a career in investment banking and learning from the industry's best.
Mr. Miller, Chairman, President and Chief Executive Officer of TMG and affiliated entities, stated, "It is an honor to add Ethan Tong as a stellar recipient of this prestigious RRM Scholarship award. We welcome him to a select group of prior awardees."
Mr. Miller continued, "Ethan has exceptional work and academic commitment and we spent some valuable one-on-one time together in a mentorship discussion. He is bright, strong-willed, and has a profound zealousness to help others succeed in life."
Laura Lindsey, Department of Finance Chair and the Cutler Family Endowed Professor, ASU's W. P. Carey School of Business, remarked, "Ethan Tong is an excellent choice for the Rudy R. Miller Business – Finance Scholarship. As a Senior in the Barrett Honors College at ASU, Ethan has maintained an outstanding academic record while also being very involved in various finance-oriented student organizations. I want to thank Rudy Miller and The Miller Group for their continued support of our most determined and accomplished students."
Mr. Miller instituted the annual RRM Scholarship Program in 2008 to support ASU, W. P. Carey School of Business, encourage mentorships, and recognize academic excellence and community involvement of outstanding students. Since inception, Mr. Miller has issued three additional ASU scholarships, not included in the annual award process, totaling 22 ASU scholarships to date. Mr. Miller had the honor to serve as a member of ASU's Dean's Council of 100, a national group of prominent business executives invited by the Dean to play a leadership role in shaping the future of the W. P. Carey School of Business.
His philanthropic endeavors include support for the non-profit arts community, various universities, athletic foundations, and veterans' projects. He serves as Chairman of the Advisory Board of Thunderbird Field II Veterans Memorial, Inc., a non-profit organization that honors veterans and currently offers aviation scholarships at six Arizona colleges, including ASU. In August 2023, Mr. Miller was selected by Embry-Riddle Aeronautical University to join two influential advisory boards for both the College of Aviation and the College of Business, Security and Intelligence. In addition to joining the advisory boards at Embry-Riddle, he established scholarships for students at both colleges and set up a fund to support simulator training to improve commercial pilot safety.
About The Miller Group
MILLER, established in 1972 and headquartered in Scottsdale, Arizona, is comprised of several affiliated companies including Miller Capital Corporation, Miller Investments, Inc., and Miller Management Corporation. The Miller Group offers a broad range of services including venture capital and private equity investing, debt financing, financial advisory, and management consulting to public and private middle-market companies throughout North America, Europe, and Asia. A select group of current and past clients include: America West Airlines®, Bowlin Travel Centers, Inc.®, Capital Title Group, Inc., DELSTAR Companies, Inc., Legal Broadcast Network, LLC, Magma®, McMurry, Inc., Ritz Carlton Magazine®, Sequence Media Group, ServRx, Inc., Sunshine Minting, Inc.®, Telgian Holdings, Inc.®, and US Air Express.