December 1, 2018 – San Diego, CA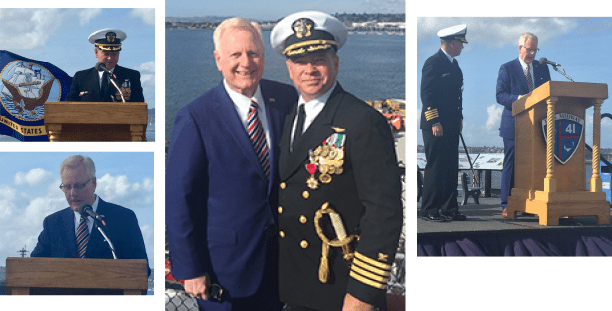 RUDY R. MILLER, KEY NOTE SPEAKER
San Diego, CA – Naval Supply Systems Command (NAVSUP) Fleet Logistics Center San Diego held a ceremony where Commanding Officer Capt. Craig P. Doyle relinquished command of the Navy Reserve Headquarters Detachment to Capt. Brian J. Anderson aboard the USS Midway Museum, San Diego, CA on December 1, 2018. Capt. Doyle also retired after 30 years of service and received his honorable discharge.
Over Captain Doyle's extensive military career, his active duty assignments included Commanding Officer, NAVSUP Fleet Logistics Center Yokosuka, Japan, the first Reserve Officer to Command a Fleet Logistics Center, an Echelon IV Command. He was recalled to active duty in support of OPERATION IRAQI FREEDOM serving as Multi-National Forces – Iraqi, Coalition Operations Officer in 2006-2007 just prior to and during "The Surge." He also returned to active duty serving at U.S. Special Operations Command and participated in the response to the September 11, 2001 attack in New York City as a member of NR Naval Special Warfare Unit TWO, Weapons Station, Earle, NJ.
An entrepreneur, Mr. Miller founded The Miller Group, Inc., Miller Capital Corporation, Miller Investments, Inc., Miller Management Corporation, Miller Capital Markets, a FINRA member investment banking firm, Miller Technology & Communications, and StatesWest Airlines / US Air Express. He has secured over $4.6 billion in capital for his clients. Mr. Miller has served as a board member for a dozen public and private companies, as Vice Chairman-Finance of The Ritz-Carlton Magazine, Chairman of the Arizona Board of Private Post-Secondary Education, as a board member for the Peace Officers Memorial, and currently serves as Advisory Board Chairman of Thunderbird Field II Veterans Memorial in Scottsdale, Arizona. He served over 20 years as an arbitrator for the NASD and was selected by President Ronald Reagan to serve as a member of a Presidential Task Force. Mr. Miller received an honorable discharge from the U.S. Army as a Noncommissioned Officer and earned a Bachelors and Masters of Business Administration degrees.
At the conclusion of his speech, Mr. Miller presented Capt. Doyle an award on behalf of the Thunderbird Field II Veterans Memorial.