November 16, 2017 – Scottsdale, AZ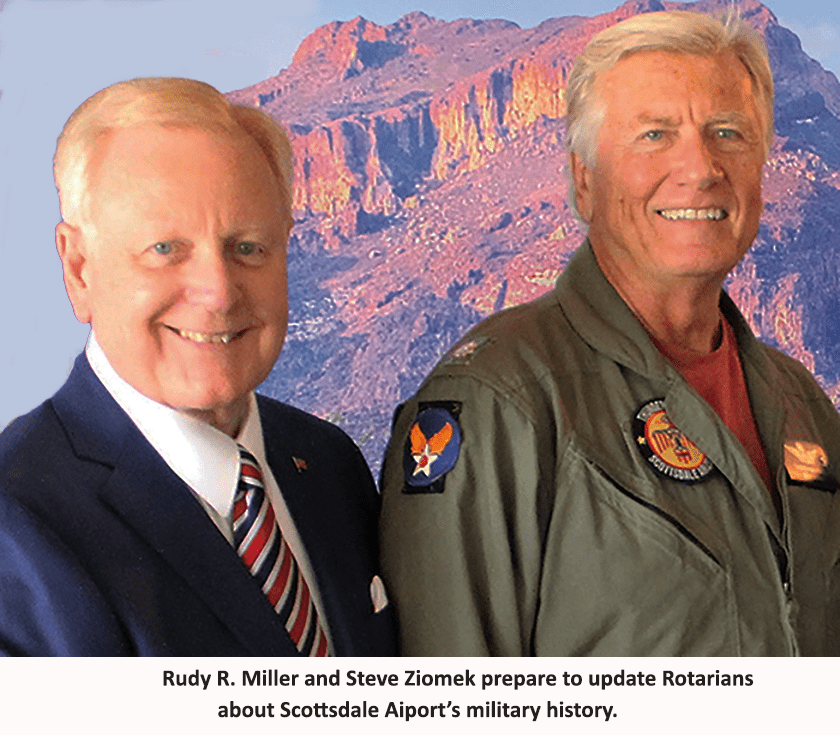 The history of Scottsdale Airport – and its early days as a World War II training facility for fighter pilots – was the topic of a special Veterans Day salute talk by the Rotary Club of Scottsdale.
Rudy R. Miller, Chairman, President and CEO of Miller Capital Corporation and The Miller Group – a dedicated supporter of the Thunderbird Field II Veterans Memorial Monument – introduced Steve Ziomek, Chairman of Thunderbird II Veterans Memorial, Inc. to Rotary Club of Scottsdale members and guests.
The capacity-filled luncheon meeting held at McCormick Ranch Golf Club's Pavilion was part of the club's annual program to honor vets.
Mr. Ziomek is former commissioner and chairman of the Scottsdale Airport Advisory Commission, current Scottsdale business owner, U.S. Civil Air Patrol commander, U.S. Coast Guard Academy graduate and former Coast Guard rescue pilot.
During his talk, Mr. Ziomek noted that many of our nation's brave veterans are honored with a military memorial featuring a Boeing-Stearman PT-17 and artifacts at the Scottsdale Airport, formerly Thunderbird Field II.
The Scottsdale Airport Thunderbird Field II Plaza has been about 75 years in the making as a park-like plaza to showcase the field's history and contribution to World War II.
The PT-17 aircraft is similar to those flown during the field's World War II flight training days.
Mr. Ziomek stated the Scottsdale Airport began on June 22, 1942, as Thunderbird Field II, a basic training facility for World War II Army Air Corps pilots.
Since its inception, Thunderbird II graduated more than 5,500 students (of which 15-20 percent were women), many of whom saw military action in Europe and the Pacific.
In addition, Thunderbird II pilots flew nearly 26,500,000 miles, more than 3,000 times around the world at the equator. Two years, three months and 24 days later, the training facility was deactivated on October 16, 1944.
Thunderbird Field II Veterans Memorial, Inc. is a non-profit orgainzation 501 (C)(3) aimed at preserving the history and culture of aviation in Scottsdale, providing a tribute to veterans and an educational opportuity for our children.
The organization is comprised of individuals from many different backgrounds who share a common passion for aviation, history and military heritage. For more information about the memorial, visit www.tbird2.org.