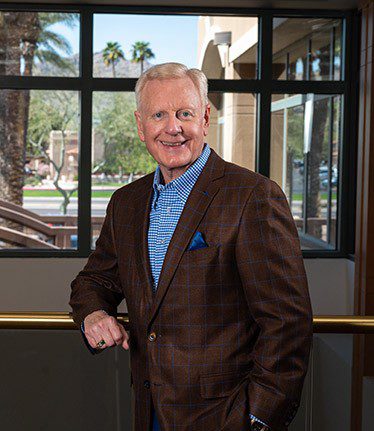 RUDY R. MILLER
Chairman, President & Chief Executive Officer
Mr. Miller is Chairman, President and Chief Executive Officer of Miller Capital Corporation, an affiliated company of The Miller Group of entities (TMG), established in 1972. Mr. Miller was Founder and Chairman of the Board of Miller Capital Markets, a FINRA member investment banking firm, from 2006 through 2012. He previously served over 20 years as a certified arbitrator for the NASD (now known as FINRA). He has years of executive-level experience owning, operating, and advising national and international corporations, from NYSE listed public companies to emerging-growth private companies, through varying economic climates.
Mr. Miller's expertise includes securing clients and TMG's portfolio companies over $5 billion in public and private capital, including debt financing; structuring, negotiating, and closing numerous mergers and acquisitions; and providing other related strategic/financial value-add business services. His ability to address crisis issues on behalf of his clients is one of his crucial skillsets.
An entrepreneur, Mr. Miller founded Miller Technology & Communications Corporation (MTCC), which he successfully grew into a leading regional provider of technology training services. The company was selected by INC. Magazine as one of the fastest 100 growing small public companies in America. As CEO, Mr. Miller led MTCC through a series of private and public financings and sold the operating business through the sale of its assets to a NYSE listed company.
Mr. Miller was instrumental in assisting America West Airlines development from a business plan to an operating airline, participating as an early-stage investor/advisor regarding the company's initial public offering and serving as a board member from 1982 through 1985. In 1986, Mr. Miller departed to found StatesWest Airlines, where he served as Chairman, President and Chief Executive Officer. During his tenure, Mr. Miller successfully secured over $135 million in public and private capital for StatesWest Airlines that operated as a USAir Express regional airline and exited the business in 1993, thereafter focusing all of his time on TMG.
Mr. Miller has served as a board member for a dozen public and private companies including Jacor Communications, Inc. (NASDAQ), Comprehensive Care Corporation (NYSE), America West Airlines, Inc. (NYSE), and Directrix, Inc. (NASDAQ). He also served as Vice Chairman-Finance of The Ritz-Carlton Magazine® published by SCG, Inc.
Mr. Miller was the Managing Partner for "Wall Street Awareness Series", a national syndicated cable television finance and business news show. He produced and hosted the weekly show, aired by Financial News Network ("FNN") (now known as CNBC) with a live stock quotes feature to approximately 26 million households in the U.S. and Canada. Mr. Miller received a bronze medal award from the 25th International Film & TV Festival of New York City as Executive-Producer and CEO of Miller Video in the film "Most Likely to Succeed" in which he also had a role.
President of the United States of America, Ronald W. Reagan, presented Mr. Miller the Medal of Merit in appreciation of his support and service as a member of a Presidential Task Force. He was honored to be the keynote speaker at a U.S. Navy Relinquishment of Command and Retirement Ceremony aboard the USS Midway Museum, San Diego, CA in 2018. Mr. Miller is currently serving as Thunderbird Field II Veterans Memorial, Inc.'s ("TB2") Chairman of the Advisory Board and Scholarship Committee and was the recipient of the first TB2 Leadership Award. Mr. Miller served in the United States Army, U.S. Army Reserve, and the U.S. Air Force Reserve, in the Vietnam era. He received honorable discharges as a Noncommissioned Officer. Mr. Miller is listed on the Smithsonian National Air and Space Museum Wall of Honor. Prior to his military service, he also served as a fireman/first responder.
Serving his home state of Arizona, Mr. Miller was appointed by state government officials, including the Governor and the Attorney General of AZ, to serve as a member of the AZ Board of Private Post-Secondary Education and was elected Chairman by the board members, as well as a board member for the Peace Officers Memorial. He has been a featured speaker on numerous occasions at various college and university ceremonies as well as featured in a number of magazines, including Tycoon Magazine. He has also served as Chairman or President for community service organizations. Mr. Miller's philanthropic endeavors include support for the non-profit arts community, athletic foundations and veterans' projects.
Within the sports industry, Mr. Miller has a strong background encompassing professional football, hockey, thoroughbred racing, sports and entertainment ticketing, race car sponsorship programs, and including being an investor and partner in a World Team Tennis professional sports franchise in Phoenix, AZ. He served as a member of the Arizonans for NFL Expansion Committee and was a participant in the Phoenix Metropolitan Sports Alliance, which was involved in bringing the NFL Cardinals to Phoenix. He is also Past-President and Board Director of the National Football Foundation and College Hall of Fame, Valley of the Sun Chapter. He has served as a registered contract advisor (Agent) for the National Football League and Canadian Football League.
In 2008, Mr. Miller instituted the annual Rudy R. Miller Business – Finance Scholarship in support of Arizona State University, in particular the W. P. Carey School of Business, and to encourage and recognize academic excellence in outstanding students. His active involvement at the University also included having served as a member of ASU's Dean's Council of 100, a national group of prominent business executives invited by the Dean to play a leadership role in shaping the future of the W. P. Carey School of Business. Mr. Miller earned his Bachelors and Masters of Business Administration degrees from Pacific Western University.