October 15, 2018 – Scottsdale, AZ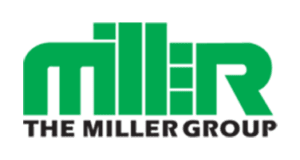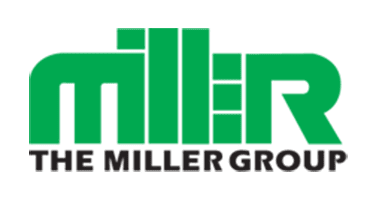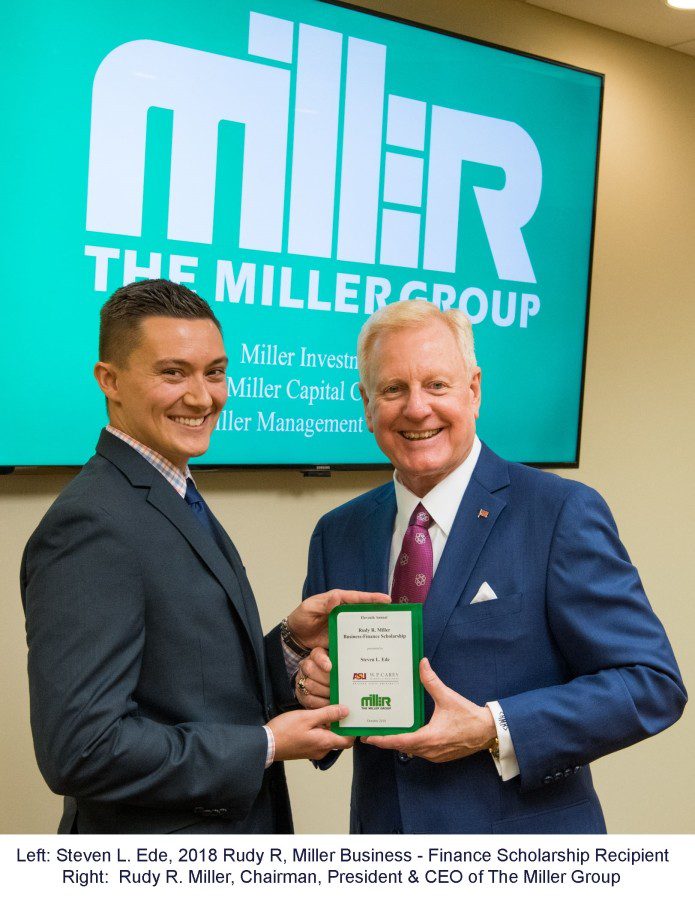 The Miller Group (TMG) announced it has awarded its eleventh annual Rudy R. Miller Business – Finance Scholarship (RRM Scholarship) to Arizona State University (ASU) student, Steven L. Ede. Mr. Ede is a senior at ASU W. P. Carey School of Business pursuing a Bachelor of Science degree in Finance. He anticipates returning to W. P. Carey to earn his MBA and has a goal of becoming an investment banker.
Mr. Miller, Chairman, President and CEO of the affiliated group of MILLER entities, established the RRM Scholarship in 2008 as a way to express his and his firm's support of ASU, in particular the W. P. Carey School of Business, and to encourage and recognize academic excellence in outstanding students. The RRM Scholarship is based on merit and is awarded annually to a junior or senior pursuing a degree in Finance or Business Administration at the W. P. Carey School of Business. TMG has also provided other scholarships to deserving ASU students on a selective basis, such as The Miller Group Corporate Scholarship and the Rudy R. Miller Finance Intern Scholarship. Over the past eleven years, Mr. Miller and TMG have awarded 14 individual scholarships to assist ASU students in achieving their educational and career goals.
Thomas Bates, Associate Professor and Chair, Department of Finance, commented, "Steven Ede is an excellent candidate for the Rudy R. Miller Business – Finance Scholarship. As a senior at ASU, Steven has an exceptional work ethic and has earned an outstanding academic record as a finance major. I am happy this scholarship will aid Steven as he works to accomplish his career goals in investment banking. My thanks go out to Rudy Miller and The Miller Group for their recognition and financial support of our best and most deserving students."
Rudy R. Miller stated, "It is with great pleasure I welcome Steven to join our selective and growing group of scholarship recipients. He has displayed perseverance and commitment to his goals through his various university and community activities. When I interviewed him as a finalist for this award, he indicated though he appreciated the economics of the scholarship, the most important item to him was the lifelong mentorship that he would receive from me, if he was chosen for this honor. I look forward to mentoring Steven over the coming years."
To honor Mr. Ede as the 2018 RRM Scholarship recipient, TMG's Chief Executive Officer hosted a luncheon attended by Steven Ede and his parents, Steve and Jodi Ede and his sister, Briana Ede; W. P. Carey School of Business representatives Wendell Licon, Department of Finance Vice Chair and Clinical Associate Professor, Maya Duebler, Department of Finance Business Relations Specialist, Johanna Urrutia, Development Office Donor Relations Coordinator; and Jerry Schwallier, Chairman of Arizona Bank & Trust, a special guest. During the luncheon at TMG's headquarters in Scottsdale, Arizona, Mr. Miller presented a plaque and RRM Scholarship award to Mr. Ede.
Contact:
Maya Duebler
Business Relations Specialist
W. P. Carey School of Business
[email protected]