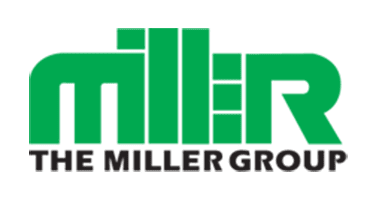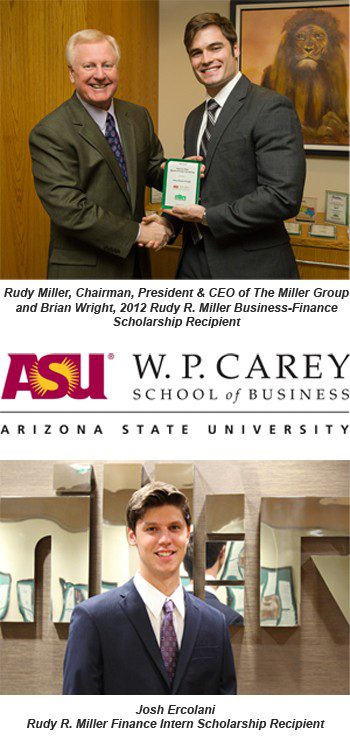 October 16, 2012 – Scottsdale, AZ
The Miller Group announced it has awarded the fifth annual Rudy R. Miller Business – Finance Scholarship to Brian P. Wright, an Arizona State University (ASU) student pursuing three Bachelor of Science degrees in Finance, Economics and Accounting.
Mr. Wright is a Senior at ASU, enrolled in the Barrett Honors College. He is involved in several campus organizations including the Student Investment Management Fund and serves as a W. P. Carey Business Ambassador representing the university within the community. Mr. Wright served as an intern with Merrill Lynch and Intel.
Rudy R. Miller stated, "It is with great pleasure we welcome Brian to join our selective and growing group of Rudy R. Miller Business – Finance Scholarship recipients. As a bright student committed to his goals through his various university, intern and community activities, we are pleased to honor Brian, recognize his achievements and I look forward to mentoring him as he pursues his goals."
Thomas W. Bates, ASU Associate Professor and Chair – Department of Finance, added, "I want to thank Rudy Miller and The Miller Group for continuing to support one of our most deserving students. This year's recipient of the Rudy Miller Business – Finance Scholarship, Brian Wright, is a truly outstanding student and dedicated mentor. I am very pleased that this scholarship will aid Brian as he works to realize his goal for a career in capital markets."
Mr. Miller, Chairman, President and CEO of the affiliated group of Miller entities, originated the scholarship in 2008 to express his and his firm's support of ASU, in particular the W. P. Carey School of Business, and to encourage and recognize academic excellence in outstanding students. The scholarship is awarded annually to a carefully selected Junior or Senior pursuing a degree in Finance or Business Administration at the W. P. Carey School of Business at ASU.
In addition to providing the Business – Finance Scholarship, this year The Miller Group created a special award, the Rudy R. Miller Finance Intern Scholarship, to acknowledge the outstanding work ethic and commitment of the firm's Summer Intern Analyst, Josh Ercolani. He is a Senior at ASU's W. P. Carey School of Business, enrolled in the Barrett Honors College and pursuing a Bachelor of Science degree in Finance. Mr. Ercolani recently founded The Investment Banking Group, an organization that partners with faculty and industry leaders to further student's investment banking education. Previously, he served as a Junior Analyst intern with Marcus & Millichap.
Rudy Miller concluded, "The Miller Group and its affiliated entities continues to grow its relationship with ASU, a dedicated and progressive academic institution committed to a standard of excellence. Our firm is proud to be an active supporter of the university and its students."