May 1, 2023 – Scottsdale, AZ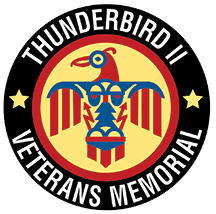 Scottsdale, AZ (May 1, 2023) – Thunderbird Field II Veterans Memorial, Inc. ("Tbird2″) has added Denise Pulk to its Board of Directors. Tbird2 is a non-profit 501(c)(3) organization whose mission is to preserve the rich history and culture of aviation in Scottsdale, provide a tribute to our veterans, promote aviation, create unique educational opportunities to the public, provide aviation scholarships for Arizona college students, and support Dogs4Vets and other specific veteran assistance programs.
About Denise Pulk
Denise, a Scottsdale, Arizona resident for over 25 years and United States Navy Veteran, has been a City of Scottsdale businesswoman and volunteer at many events and initiatives over the years.
Having served in an administrative position and then as a communications and events coordinator, Denise was promoted to Senior Program Manager for the Scottsdale Charros. The Charros is a non-profit devoted to promoting academics through scholarships and other educational programing, and to promote youth activities, sports, and cultural enrichment in the community.
Denise served as lead project and logistics coordinator for many Charros initiatives, including spring training baseball at the Charro Lodge/Scottsdale Stadium, annual education awards event, annual community celebration event, annual youth luncheon & baseball clinic, yearly grant application process, and more.
In 2021, Denise joined Cox Business as Senior Business Services Specialist.
Community Service Involvement
Commissioner/Vice Chairman/Chairwoman – City of Scottsdale Veterans Advisory Commission
The Friends of the Scottsdale Public Library, Board Director
Scottsdale Leadership committee member – Community Event Committee, Core Program Committee, Marketing Committee
Police Officers of Scottsdale Association Outreach Advisory Board Member
Cicero Preparatory Academy volunteer
Cox Communications – Volunteer at various workplace events
Education & Leadership
Sargeant Reynolds Community College, Business Administration
Graduate of the Scottsdale Leadership Class 33
Military Service & Assignments
United States Navy, Petty Officer 3rd Class
USS Simon Lake AS-33 – La Maddalena, Italy/NATO base
USS LY Spear AS-36 – Norfolk, VA
Stephen P. Ziomek, Chairman and President of Tbird2, stated, "Denise's background and experience in the non-profit, business and government space is certainly a plus for the Tbird2 organization. We're looking forward to her contributions as we fulfill our mission."
Denise Pulk commented, "I have known about the Thunderbird Field II Veterans Memorial organization and Steve for a number of years and was proud to serve with him on the City of Scottsdale Veterans Advisory Commission. When he shared that there was an opening on the Tbird2 board, I immediately expressed interest. Thunderbird Field II, the Scottsdale Airport, has a long, storied history in my adopted hometown, Scottsdale, AZ. I am excited to be given the opportunity to utilize some of my talents and partner with my fellow board members to promote this memorial, its scholarship program, and other veteran initiatives."
About Thunderbird Field II Veterans Memorial, Inc.
Thunderbird Field II Veterans Memorial, Inc. is a 501(c)(3) non-profit organization formed in 2014 and headquartered in Scottsdale, Arizona. During World War II, the airfield named Thunderbird Field II was built for the sole purpose of training U.S. Army Air Corps pilots in 1942. Thunderbird Field II graduated over 5,500 men and women pilots, many of whom saw military action in Europe and the Pacific. The field and school were deactivated on October 16, 1944, sold to Arizona State Teachers College (ASU), then to the Arizona Conference of Seventh-day Adventists, and finally to the City of Scottsdale in 1966 and is now known as the Scottsdale Airport (KSDL). Tbird2 has a permanent Veterans Memorial at the entrance to the Scottsdale Airport, located at 15000 N. Airport Drive, Scottsdale, AZ. The centerpiece of the memorial is a 1942 Stearman biplane, and inside the business center is a historical display honoring the service of men and women of the U.S. Armed Forces as well as POW-MIAs.
The Aviation Scholarship Program provides scholarships to veteran and non-veteran Arizona resident students who meet specific criteria and are attending Arizona State University, Embry-Riddle Aeronautical University, Chandler-Gilbert Community College, Cochise College, Pima Community College, or Yavapai College. For more information, please visit www.tbird2.org.
About Dogs4Vets
American Service Animal Society, dba Dogs4Vets, is a non-profit 501(c)(3) organization dedicated to enabling disabled veterans live a more productive life through the use of service animals. Dogs4Vets offers no-cost lifetime support and service dog training for over 100 Arizona veterans each year.
Thunderbird Field II Veterans Memorial, Inc. Contact:
Steve Ziomek
Chairman & President
480.664.6604